Aide financière pour les nouveaux licenciés A
Objectif :
Offrir aux nouveaux licenciés du brevet A (soit ACPS ou USPA) l'opportunité d'avoir un allègement financier à l'aide d'un rabais de 15% sur tous les vêtements chez Ouragan sport.
Conditions :
Nouveaux détenteurs du brevet A (ACPS, USPA) depuis maximum 3 mois.
Comment l'obtenir :
-Élèves : Communiquez avec votre instructeur de votre drop zone ou directement avec nous par téléphone au 418-660-3030 ou info@ouragansport.com
-Instructeurs :
Communiquez avec nous pour obtenir toute information ainsi que les certificats cadeaux, par la poste ou par courriel.
Chez Ouragan, nous sommes très fiers d'encourager la relève.
Nous vous assurons un produit de qualité supérieur pour toutes les disciplines. N'hésitez pas à nous contacter si vous avez des questions !
Partagez la bonne nouvelle avec vos amis parachutistes afin qu'ils puissent profiter de cette promotion !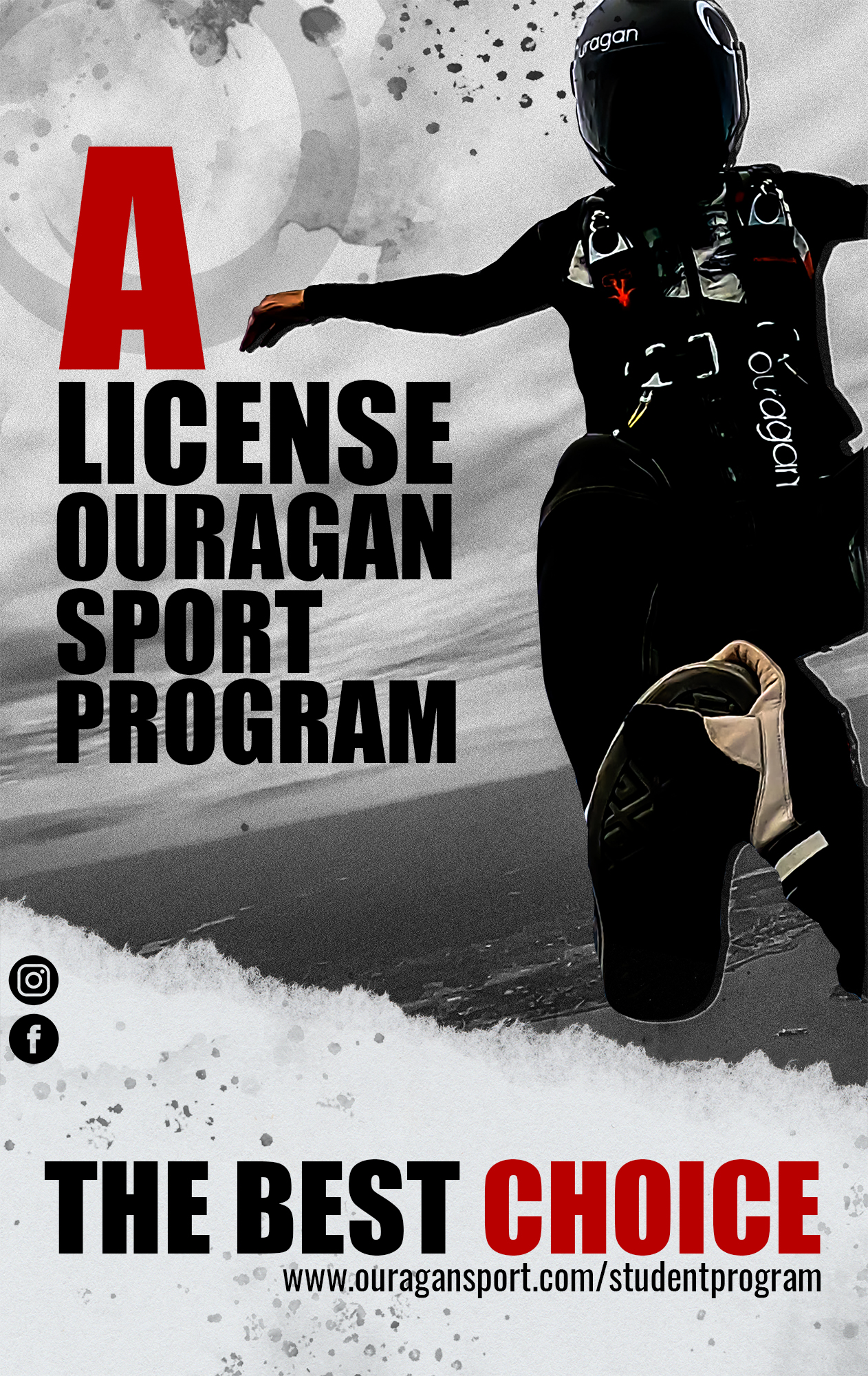 Financial Assistance for New A-license holders.
Objective:
To offer new A-license holders (either CSPA or USPA) the opportunity to have a financial relief with a 15% discount on all clothing at Ouragan Sport.
Conditions:
New A-license holders (CSPA, USPA) for a maximum of 3 months.
How to get it :
- Students: Contact your drop zone instructor or contact us directly by phone at 418-660-3030 or info@ouragansport.com
- Instructors :
Contact us for information or to receive gift certificates by mail or email.
At Ouragan, we are very proud to encourage the next generation. We assure you of superior quality products for all disciplines.
Do not hesitate to contact us if you have any questions !
Share the good news with your skydiving friends so they can take advantage of this promotion !